---
---
This engine produced by JetsMunt in Spain, is a real bargain.
It is our pleasure to announce the launch of our new M122NG. Based on the bestselling M100, we have incorporated the latest technology and design from its big sisters, achieving amazing performance with the same size as its predecessor. A new challenge achieved thanks to the fantastic and tireless Jets Munt team. 
Our M122 NG is the engine of choice for the 2 meter class of sport models. 12,2kg packed in a small, lightweight body that can cover many jets options thanks to its great weight and size / power ratio.
The power is adjustable from 5.5 to 12.2kg, which is perfect for installing a multitude of models and adapting the power to our aircraft.
The successful M122 NG engine was the first to receive our new electronic system.
Sensors and valves are installed inside the motor, simplifying installation.
Starter and fuel pump motors are brushless, an industry first, only in JetsMunt!
The engine has only one fuel input directly from the pump, and a 3-wire electrical connection to the ecu that carries the battery power and a bidirectional digital bus.
All measures and data from the engine are transmitted to the ecu in digital data format, using a high speed proprietary protocol specially developed for this application.
The bus design allow a distance up to 1,5 meters from engine to ecu while keeping the generated noise by the bus to a very low level to not affect other devices nor to be affected by them.
Includes engine and all ancillary accessories needed to run the engine, except the battery. Recomended LiPo 7,4v 2500mAh
152.000 rpm —————— 120 N
151.000 rpm —————— 118 N
150.000 rpm —————— 117 N
149.000 rpm —————— 115 N
148.000 rpm —————— 114 N
147.000 rpm —————— 112 N
146.000 rpm —————— 110 N
145.000 rpm —————— 109 N
144.000 rpm —————— 107 N
143.000 rpm —————— 105 N
142.000 rpm —————— 104 N
etc…
Specifications:
Nominal thrust: 12,2kg at 152.000 RPM
Idle thrust: 4N
Idle RPM: 40,000
Diameter: 90mm (3.5")
Engine weight: 978g 
Installed weight: 1.159g 
Fuel: Kerosene/Diesel + 3% – 5% oil
Fuel comsumption: 340g/min
Start mode: Direct Kerosene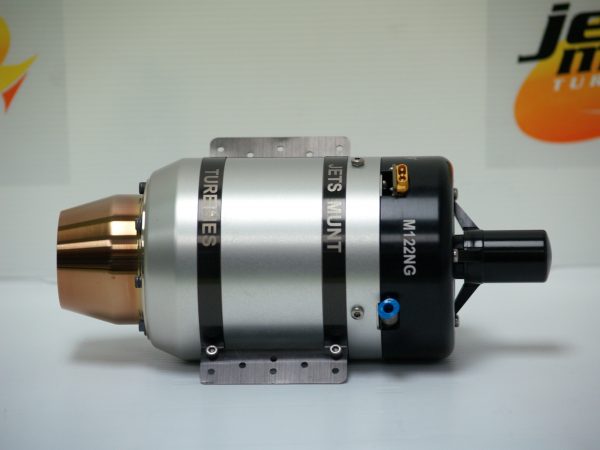 ---